Repair and rehydrate the skin for plump and healthy skin
Enhance the color and tone of your skin, and hide cellulite and stretch marks while you keep dry patches at bay. Impressive results quickly improve the look and feel of your skin!
Do you have mature skin with unsightly dry patches? Or is it pale, pasty, crepey, peeling, or dull?
If yes, get ready to be complimented on how great your skin looks. Imagine easily improving your skin's look and feel daily by applying the Anti-Aging Body Treatment.
It helps diminish visible signs of crepey skin and fine, thin wrinkles. This unique smoothing concentrate features protective antioxidants. It moisturizes skin for 24 hours for lasting hydration.
Made with skin-loving oils like Hazelnut, Walnut, Apricot, and Kukui combined with essential oils of Lavender and Geranium plus Vitamin E make this imaginably best suited for mature skin.
A gentle, non-irritating formula helps with wrinkles and other signs of aging.
No Mineral Oil, No Petrolatum, No Silicone, No Water, No Alcohol, No Fillers.
Walnut Oil fights wrinkles and has botanical skin-loving properties.
Apricot, Avocado, and Kukui Nut Oils to moisturize and nourish dry, cracked skin.
Erases the appearance of fine lines, blotches, and discolorations.
No side effects. It is chemical-free and does not create dependency.
Made in the USA.
Apply all over the body or on specific areas you wish to target.
Use clean, damp skin after showering or bathing for even better results.
Reapply as necessary.
Applying it to damp skin will lock in moisture.
You can also use this product underneath your sunscreen or body lotion.
For an excellent body cleanser, we suggest checking out our Gaiana Nutritive Soap
Corylus Avellana (Hazelnut) Seed Oil, Juglans Regia (Walnut), Prunus Armeniaca (Apricot) Kernel Oil, Persea Americana (Avocado), Aleurites Moluccana (Kukui Nut), Oryza Sativa (Rice) Bran Oil, Amygdalus Persica (Peach) Kernel Oil, Pelargonium Graveolens (Geranium) Oil, Citrus Grandis (Grapefruit) Peel Oil, Lavandula Angustifolia (Lavender) Oil, Tocopheryl Acetate (Vitamin E).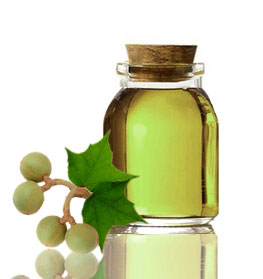 Avocado Oil (Persea americana)
Avocado oil comes from the fruit avocado, which is an extremely deep penetrating oil. Avocado is a versatile moisturizer. It contains essential nutrients like proteins, vitamins A, D, E, and B6, magnesium, copper, iron, amino acids, and folic acid, as well as potassium, known as the youth mineral which nourishes your skin. Avocado oil has high levels of plant sterolins are well known for rejuvenating skin and reducing signs of aging.

Hazelnut Oil (Corylus avellana)
Ancient Greek and Chinese manuscripts dating back thousands of years reveal that hazelnuts were considered a sacred food. Hazelnut oil is made from cold-pressed hazelnuts. Hazelnut oil leaves a luxurious, silky feel on the skin, and it is very easily absorbed, leaving no oily residue. It also contains nutritive Vitamin E, B and minerals. Vitamin E protects the cells from damage by free radicals by neutralizing them. It is thought to help produce new elastin and collagen fibers.

Peach Kernel Oil (Amygdalus Persica)
Obtained from the dried kernel of the Peach, Peach Kernel oil is rich in vitamins A and E with fatty acids that provide high antioxidant properties, which promote the skin's nutritive suppleness and protect it from environmental damage. It is a light, penetrating oil that enhances skin elasticity and has a soft and smooth quality on the skin. The soothing, emollient nature of peach kernel oil provides excellent moisture for dry, flaky, or sensitive skin.

Kukui Nut Oil (Aleurites molucanna)
Kukui Nut oil is native to a number of islands, including the Hawaiian Islands, as well as Malaysia and Indonesia. The oil extracted from the Kukui Nut oil is clear, with light color of gold, and thin. It contains vitamins A, C, and E, which are beneficial in keeping the skin hydrated and smooth. It is said to be anti-inflammatory, anti-oxidant rich with anti-bacterial properties.

Walnut Oil (Juglans regia)
Walnuts are considered to be an herb in Traditional Chinese medicine. Walnut oil is extracted from the meat of the dried nut. It is prized for its quick drying and penetrating qualities. Walnut oil, just like walnuts, has many benefits. Walnut oil is an excellent emollient with moisturizing properties for dry, chapped, or irritated skin. It is rich in omega-3 fatty acids, vitamins B-1, B-2, and B-3, Vitamin-E, and niacin. Walnut oil contains linoleic acid, which is good for dry skin, and it does not clog pores.

I was using a lot of home remedies to improve my skin spots and the crepey looking. I used lemon juice, yogurt, milk and honey, applying pure aloe vera gel, turmeric paste, raw potato, vitamin E oil and oatmeal. The issue is that the darker the spot was on my skin, the harder it was to get rid of it. My dark spots were really dark; I was losing hope and accept my skin was never getting better. This anti-aging body treatment is like no other product I have tried. I love the thicker texture of the liquid and my skin looked instantly softened and hydrated! My skin is looking tone and the improve on my spots are impressive. I know this product is feeding my thirsty skin and giving the perfect nutrients to improve the quality and appearance of my skin.
Aida H Calgary AB CA

I have been pleasantly surprised with this product. I have extremely light olive skin and always develop dark spots. I used to use a prescription product containing aggressive chemicals but it was too harsh to use on my skin, my skin was full of dry red itchy patches after each treatment for many years. This anti-aging body treatment works well and is a great mix of many essential oils. My spots have evened out in, the texture have been improving and the tone of my skin is like a bronze caramel color. Maybe I am crazy, but this treatment is giving a brown color to all my skin. My skin is looking beautiful!!!
Sherry R Ashburn VA

The only down side is I tend to apply it right out of the shower in the morning. If your skin is wet, it doesn't apply smoothly and makes it waxy. But is not a big deal I just have not to be in a rush and make sure my skin is wet when I was applying. I apply at night as a moisturizer. Sometimes if a am using a skirt or shorts, I use more amount on my legs. This anti-aging treatment makes my legs looks fantastic!!
Joan H Albany NY

For me, it is pretty important for products that go on my body to be made of good ingredients, so I was so happy that I found this anti-aging treatment for the body. I have noticed lately that my underarms, legs and neck are looking saggy, dry and crepey. This started to get more predominant after my 40's and I wanted to start taking better care of my skin now. Over all this is an amzing product for wrinkles, dry skin and dark spots as well. I'm not quite to that point in my life I am going to give-up. I definitely recommend this product to anyone who wants to work on their skin before is too late or even just get a jumpstart on them like me it is a great treatment!
Roberta PL Forest Hills NY

This anti-aging for body treatment goes on smoothly, soaking right into my skin. The smell is nearly to herbs and essences, very pleasant what there is of it. Indeed, I'm very surprised how it's working, my skin does look great and is silky smooth. I'm 57 years old so what I'm using seems to be working, I take vitamins, and drinks lots of water which in combination with the healthy diet seems to get the job done. There are a lot of creams and anti-aging products on the market, but this is the strongest and most effective that I've bought so far. This bottle lasted over three months and I am using it at day and night.
Diana Z Athens GA

I have only been using this serum for four weeks, but I am so happy with it so far. I cannot wait to write a review; my skin is looking gorgeous. I am surprised with this company, I am not in any way easy to be surprised, I just want people to know how great this stuff is so far!!!
Elaine D Erie PA

I am a 48-year-old woman. I have noticed the skin on my legs are dry, flaky, a little creepy and wrinkly. It seems like it happens in the past year. I work out every day and do weight training. I was always so proud to show off my legs. This anti-aging body treatment it makes my legs it looks healthy, shiny and it works immediately. Within 2 days of applying this body serum to my legs, the dry skin disappeared, the crepey and wrinkles are less notice and my skin color is beautiful!
Paula M Philadelphia PA